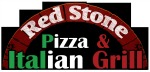 Attention Groups, Churches, Clubs, Sports Teams, etc.
Have your group event or fundraiser at Red Stone Pizza & Italian Grill and we'll give back a percentage of the sales! Call us for details!
Delicious Italian Cuisine!
Italian Cuisine Dishes • Seafood Dishes and Steak Dishes (many choices) • Pizza • Create a Pizza (many choices) • Sandwiches • Appetizers • Wine and Beer and much more!
LOCATION:
661-587-9090
9901 Hageman Rd., Suite 100, Bakersfield CA  93312
(Hageman Rd. and Calloway Dr. in the southwest corner behind Kleenerz)
---